New administrator finds alignment with values working at Melt;
inclusivity, accessibility and sustainability.
Melt Massage is thrilled to formally announce Madeline Mesa as our new administrator!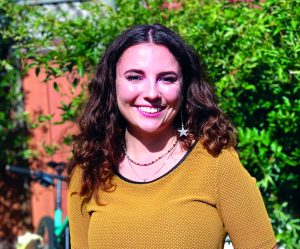 Madeline is a recent grad from UCSC with a combined major in Economics and Environmental Studies. At school, as Fiscal Co-Chair of UCSC's Student Environmental Center, Madeline worked to overcome the organization's barriers to access for funding and ensure the organization's events were in alignment with their values of sustainability and environmental justice. In a recent conversation, she shared three main values of that organization reflected here at Melt, as well: inclusivity, accessibility and sustainability.
Inclusivity – regardless of who calls or walks in the door, we always show them respect. "You're here so we can help you feel better, to relax and that's reflected on the phone and in every interaction."
Accessibility – from having a ground-floor location to our ADA bathroom with handrail to fully adjustable table heights to removing the guest chair in the massage room so there's room for a walker or wheelchair, Melt supports clients' accessibility to our space.
Sustainability – Melt supports sustainability by buying lotion and oil in bulk, offering individual wash-cloths instead of paper towels in the bathroom, and separating waste into plastic, paper, compost and trash. Mixing waste limits recycling. "If paper and plastic are not clean, they can't be recycled. A lot of that mixed waste comes from households. Separating is a simple thing to do. The more normalized it gets the greater chance there is to make an impact on the waste stream."
One of the many things we're discovering we really value about Madeline is her integrity – her commitment to sustainability in the environment as well as sustainability to herself through sustainable self-care. She supports buying self-care products like lotions and shampoo in bulk as well as using facial masks you can make with ingredients you may already have at home like honey and oatmeal. "Adding certain clays, for either cleaning or drawing out toxins, for example, you can worry less about what you're getting in commercial products and can choose what is best for you." I'm sure she'd be happy to share other things she's learned about sustainable self-care with you.
Madeline makes a habit of taking care of herself by setting aside Saturday afternoons for grocery shopping and laundry, and while the laundry is going doing a deep conditioning for her hair and a custom face mask.
Madeline accepted the position at Melt for its values and culture. She appreciates the personal support and understanding she gets at Melt and that she can talk with her coworkers about life without compromising anyone's ability to get work done. Madeline hopes to make a difference with clients by helping make it easier for them to book their massages and ensuring their experience at Melt outside the massage room is as relaxing as their experience inside.
Please help us Welcome Madeline to Melt!