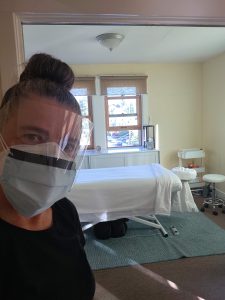 Reopening my practice once my life partner and I were fully vaccinated for Covid-19, comes with some changes:
a solo practice for me (Hana)
offering 1, 1 1/2 and 2 hour sessions, working my way back to my classic 4 hour massage
seeing clients every other week (even weeks of the year)
after nearly 20 years in Montclair Village, excited to offer a new, sun-filled, airy location on Piedmont Avenue
following new Covid protocols
Covid protocols:
In addition to previous standard practices for the prior 20 years of:
– using fresh and clean massage table linens for each client
– washing hands and arms deeply between clients (at least 20 seconds with soap)
– rescheduling instead of seeing clients if either of us is sick (see Cancelation Policy)
– running a Hepa filter during all open hours
– cleaning high touch surfaces daily.
I am also now:
– cleaning and sanitizing all high-touch surfaces between every client
– cleaning and sanitizing the massage table and headrest between every client
– having clients complete a pre-screen health questionnaire before the session
– excluding face work for now
upon arrival:
– before beginning, asking clients to wash their hands well, even if recently washed
– reviewing the pre-screen health answers for any changes since completion
– taking our temperatures to ensure neither of us have a fever
– showing my vaccine card at our first visit, asking clients to do the same
throughout our time together:
– wearing my NIOSH approved N95 mask the entire time we're together and requesting you do the same in order for us to proceed
– keeping windows open and air circulating in the rooms
– running a medical grade Medify Air filter during all open hours.
Revisions to this plan will continue to adapt to changing demands of our health environment. Stay tuned. Thank you for your patience as this website continues to be updated.
Now you can book online!