Until automated online Gift Certificate purchasing is available again, now that I am reopening, you may download the following Gift Certificate sample below. It will be activated upon purchase when Number and Expiration Date are provided.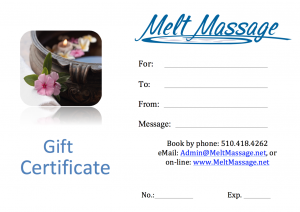 Purchases may be made by Credit Card to Venmo (to @theMeltMassage, not @MeltMassage), by Zelle (to Hana@MeltMassage.net), by check by mail or when in person by Cash or Check. Checks should be made out to Melt Massage LLC and sent to: 3852 Piedmont Ave., Suite 206, Oakland, CA 94611.
Pending credit from a Gift Certificate?
Scroll down to Changes affecting Gift Certificates here.