Thank you for giving the gift of relaxation with a Melt Massage!
Rates vary by length of service or whether it would be a recipient's First or Return Visit. Gifts may also be purchased for a dollar value toward a full session. See below for Gift Certificate Policies.
Buy your Gift Certificate now through Square!
-Or- you may download the following Gift Certificate sample below. It will be activated upon purchase when Number and Expiration Date are provided.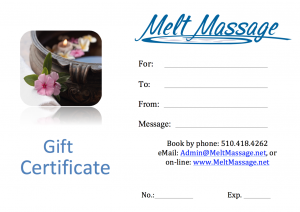 Purchases may be made by Credit Card to Venmo (to @theMeltMassage, not @MeltMassage), by Zelle (to Hana@MeltMassage.net), by check by mail or when in person by Cash or Check. Checks should be made out to Melt Massage LLC and sent to: 3852 Piedmont Ave., Suite 206, Oakland, CA 94611.
Once payment is received, you will be notified of the Gift Certificate Number and recommended Expiration date.
Gift Certificate Policies
Gift Certificates have a recommended expiration date of 6 months from date of purchase to encourage gifts to be redeemed. However, if gift is not redeemed before prices for gifted service changes, a balance may be owed at the time of service to redeem full time of initially purchased service.
Refunds may be issued at full value within 30 days of purchase. After 30 days a $15 service fee will be charged for refunds.
Inactivity fee of 5% is charged for each year that passes after 6 months since the date of purchase with a gift certificate remaining unused.
These policies are subject to change without notice.
Pending credit from a Gift Certificate? Scroll down to Changes affecting Gift Certificates here.